School Program:
Research reveals convincing evidence that youth involved in our programs transferred life skills to multiple settings and learned and used life skills through the game of golf. Our curriculum, combined with trained educators, empowers participants with a set of skills that prepares them for a lifetime of new challenges.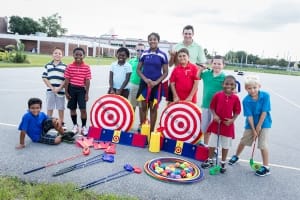 Since 2004, First Tee has been integrating the First Tee School Program into PE classes across the country. We've equipped educators at elementary and middle schools with our curriculum built around the game of golf, while positively impacting kids through both the game and its inherent ability to improve social-emotional learning (SEL) skills. We work with the school to identify funding opportunities, such as sponsors or donations.
This program aligns with national physical education standards developed by the Society of Health and Physical Educators (SHAPE) and is designed to allow physical educators the ability to adjust lessons to fit their specific teaching situations in terms of class size, time, and facility type.
What's provided:
First Tee School Program gives physical educators all the tools to get started. We provide the training, equipment, and lesson plans that integrate life skills and values with the game of golf and motor skills. We have an online community for teachers and youth leaders delivering our program, providing access to the curriculum, resources, and connections with peers delivering the program around the country.
Ready to Get Started?
To learn more about implementing this program in your area, contact us below and we will be in touch with more information.
First Tee – Upstate South Carolina Team Challenge
Each year, we host competitions for four 4th grade students to compete against other schools in their county. Below are pictures from the latest Team Challenges! To view pictures from past Team Challenges, click here.
Congratulations to 2019 Team Challenge Winners!
Spartanburg Districts 1-2 : OP Earle Elementary
Spartanburg Districts 3-7 : Pine Street Elementary
Cherokee County : Northwest Elementary
Thank you to our sponsors Bojangles, Coca-Cola and PwC for your continued support of these wonderful events for our young people!
.
We are proud to recognize the First Tee – Upstate School Program sponsors!
SPARTANBURG SCHOOL DISTRICT 7
HOUSTON sponsored by Brett and Randi Berry honoring Principal Tommy Stokes
JESSE BOYD sponsored by Dan Dunn, NAI Earle Furman and Rick Dunn Construction Company
PINE STREET sponsored by the Pine Street School Foundation
CLEVELAND ACADEMY OF LEADERSHIP sponsored by Wofford College and Spartanburg School District 7
E P TODD sponsored by BB&T
MARY H. WRIGHT sponsored by Mt. Moriah Baptist Church Foundation and Spartanburg School District 7
CHAPMAN sponsored by CHAPMAN PTO and Spartanburg School District 7
SPARTANBURG SCHOOL DISTRICT 2
OAKLAND sponsored by the Walmart Foundation
BOILING SPRINGS INTERMEDIATE sponsored by J M Smith Corporation
BOILING SPRINGS ELEMENTARY sponsored by Mary Black Foundation
MAYO sponsored in honor of past, present, and future teachers serving the children of Mayo
CHESNEE sponsored by Caman Group, Inc.
HENDRIX sponsored by Clipper Petroleum Foundation/Exxon on the Run
CARLISLE-FOSTER'S GROVE sponsored by Dr. and Mrs. Stephen Cherry
COOLEY SPRINGS-FINGERVILLE sponsored by Benefit Resources and Planning
SPARTANBURG SCHOOL DISTRICT 3
PACOLET sponsored by the Walmart Foundation
COWPENS sponsored by Cathy & Don Reynolds in memory of Jack "Frosty" Reynolds
CANNONS sponsored by Brenda Adair in memory of Bennie Adair
CLIFDALE sponsored by Dunagin Heating & Air, Founders Credit Union, Spartanburg School District 3
SPARTANBURG SCHOOL DISTRICT 6
WEST VIEW sponsored by the Walmart Foundation
LONE OAK sponsored by Phil Roper honoring Lone Oak Alumni
ROEBUCK sponsored by Mary Black Foundation
PAULINE-GLENN SPRINGS sponsored by Covaris (formerly Exopack)
JESSE BOBO sponsored by Spartanburg Regional Foundation
WOODLAND HEIGHTS sponsored by The Creek Golf Club
ANDERSON MILL sponsored by Todd & Vicki Whitehead
FAIRFOREST sponsored by Clipper Petroleum Foundation/Exxon on the Run
ARCADIA sponsored by Rotary Club of Spartanburg
SPARTANBURG SCHOOL DISTRICT 1
INMAN ELEMENTARY sponsored by Inman Mills
CAMPOBELLO-GRAMLING sponsored by Mary Black Foundation
INMAN INTERMEDIATE sponsored by Ronald McDonald House Charities/McDonald's of Inman
HOLLY SPRINGS-MOTLOW sponsored by Linda & Gary McHam
O. P. EARLE sponsored by Linda & Gary McHam in memory of Lorene McHam
SPARTANBURG SCHOOL DISTRICT 4
WOODRUFF PRIMARY sponsored by Inman Mills
WOODRUFF ELEMENTARY sponsored by Inman Mills
SPARTANBURG SCHOOL DISTRICT 5
REIDVILLE sponsored by Ronald McDonald House Charities of the Carolinas/McDonald's of Duncan
RIVER RIDGE sponsored by Ronald McDonald House Charities of the Carolinas/McDonald's of Duncan
BERRY SHOALS INTERMEDIATE sponsored in memory of Guy "Dennis" Gardner
ABNER CREEK ACADEMY sponsored by Ronald McDonald House Charities/McDonald's of Duncan
CHEROKEE COUNTY SCHOOL DISTRICT

GRASSY POND sponsored by The Hamrick Mills Foundation
LIMESTONE-CENTRAL sponsored by Ben & Barbara Taylor and Beth Taylor Lackey in loving memory of Ben E. "Benji" Taylor, Jr.
BLACKSBURG ELEMENTARY sponsored Anonymously
B D LEE sponsored by J Grady Randolph, Inc.
CORINTH sponsored by J Grady Randolph, Inc.
MARY BRAMLETT sponsored by J Grady Randolph, Inc.
LUTHER VAUGHAN sponsored by Cherokee County Community Foundation
GOUCHER sponsored by Brown Packing Company
ALMA sponsored by J. Grady Randolph, Inc.
DRAYTONVILLE sponsored by J. Grady Randolph, Inc.
NORTHWEST sponsored by First Piedmont Federal and Josh Queen honoring Jackie & Jane Queen
BLACKSBURG PRIMARY sponsored by Cherokee County School District
SC SCHOOL FOR THE DEAF AND THE BLIND sponsored by Sertoma Clubs of SC and The Walker Foundation